The mighty THOR is one of Marvel Comics' most enduring characters. With his continued adventures throughout the Marvel Universe and a big-budget movie finally gathering preproduction steam, it only seems fitting that we should check out what Sideshow Toys and Collectibles have on offer. Aside from the full-scale replicas of Thor's hammer Mjolnir and Thor's helmet, there is this stunning large-format premium figure too. Let's take a look…

Marvel fans can rejoice, as the mighty son of Asgard has been recreated to perfection in an extremely attractive statue, with our hero in a suitably iconic pose. Sculpted to museum quality standards by a team of Sideshow's finest artists, this would make a superb cebtrepiece to any Marvel Comics collectibles collection.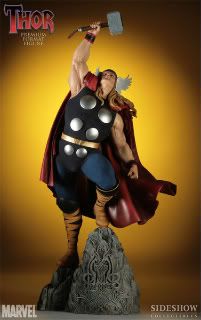 Thor isn't the first name that comes to mind when one thinks of Marvel, yet he has been a mainstay of the House of Ideas for most of its creative life. Unlike many of the other Marvel characters, his image hasn't changed all that much since his inception, aside from the occasional beard. Where the sculpt on this piece delivers is the balance that has been struck between his classic and modern era appearances, and that pose is nothing short of perfect for the character's slightly overblown nature. Holding Mjolnir aloft like that, he looks every inch the hero fans have known, loved and admired for so long. His costume is fashioned from real fabric as opposed to just being sculpted, and the addition of the billowing cape adds just that extra bit of drama to the piece. Cast in polystone and hand numbered, the piece is set to stand a whopping 30 inches high.
Now, I sometimes have issues with the bases that Sideshow will stand their figures on. Sometimes, items from Sideshow Toys are attached to bases that seem like a bit of an afterthought. Not so with the Thor Legendary Scale Premium Format figure- the base here is an integral part of the piece and doesn't overpower the image with a tastelessly added logo. There's a carving on the base, but it sits nicely with the figure and leaves the emphasis on Thor himself.