To celebrate tomorrow's UK release of the first live action IRON MAN feature film, starring Robert Downey Jr and Gwyneth Paltrow, today we'll cover quite possibly one of the most impressive items Sideshow Collectibles have ever offered.


Sideshow Collectibles have teamed up with none other than Stan Winston studios to produce the coolest piece of Iron Man movie merchandise ever. This is literally massive. The level of detail that has gone into recreating the movie incarnation of ol' shellhead is impressive to say the least.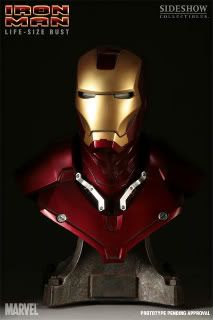 Cast in high-end fibreglass and built on a 1:1 scale, the Sideshow Collectibles lifesize Iron Man bust is basically the finest piece of memorabilia released for the movie that I've seen thus far, and it is going to take nothing less than a full working suit of Iron Man armour to top it. I mean, look at the thing! Bear in mind this piece measures approximately 24 INCHES TALL and weighs in the region of 14 KILOS, and you start to get an idea of the sheer scale of the item. Featuring the customary hand finish job from the Sideshow Collectibles/Sideshow toys team, the bust was taken directly from the molds used in the movie to make the actual costume. How cool is that?? This is literally the closest you'll get to the real thing without becoming a billionaire and building your own! The eyes contain working LEDS, working from a battery pack situated in the bust's base. What we have here is one of the most serious pieces of collectible merchandise to come out in a long time. Iron Man is the perfect vehicle for movie tie-in memorabilia, and this life-size bust is nothing short of spectacular. Now, if only they could figure out how to make me some repulsor rays and a nice shiny suit of my own, I'd be a happy little True Believer.
The movie is looking set to be incredible, and for once a merchandise range is doing the film justice. That really doesn't happen that often in this business, but with this and its associated Iron Man collectibles, we have been treated to items that are every bit as good as the film itself.